See What Clients Have To Say About Us!
Hank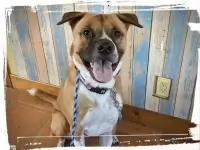 I came to Paws To Train Your Dog with an anxious and disobedient 3 year old Boxer mix. I was nearly at my wits end with Hank but I started seeing improvements within a few weeks. Both Hank and I were learning how to communicate and it was fantastic! Hank and I now have the tools to live a happy and peaceful life together. Couldn't recommend Paws To Train Your Dog enough! Thank you Troy!
~ Tamara Reichbach
Starsky & Hutch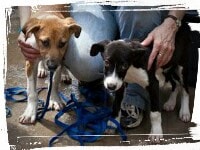 We had two feral dogs living at our dog rescue in Mexico. Volunteers made little progress in helping them trust people. I wrote to Troy about Starsky and Hutch. He visited our island and came every morning to work with them. It's amazing what knowledge and patience can achieve. I'm walking Starsky and Hutch twice a day. I have Starsky laying at my feet as I'm typing this. I'd almost given up on them and I'll never do that again. Thanks Troy!
~ Alison Sawyer & IslaAnimals.org
Scooby Doo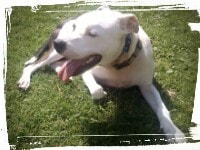 We struggled with Scooby Doo's training until I came upon Paws To Train Your Dog. It was a perfect fit for us! We enjoyed a vacation while Scooby got a Dogcation. Troy provided video updates on Scooby's training regularly. We couldn't wait to came back home and see how our Scooby Doo was doing. He used to bark and jump on everyone, walking him was such a struggle, and his behavior with other dogs made us nervous. Now we enjoy our walks! He is well behaved wherever I take him. Thank you Troy!
~ Edina Omeragic
Durango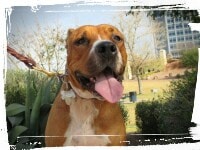 Durango was dog aggressive and got into several dog fights. I walked him super early to avoid other dogs. When people came to our door they were terrified. I was referred to Troy by another trainer. After completing Troy's training program, Durango is a completely different dog. I've had several people tell what a well behaved dog he was, and that he was "so calm". Thanks Troy! Me and Mr. D are forever grateful!
~ Holly Griffin
... [read more]
*update: due to changes in our home, we could no longer keep Durango. We miss him, but we know he is happy living with Troy and his pack!
[hide again]
Chet

Chet used to destroy his crate and our house, constantly whine, and pull on his leash, lunging and barking at other dogs. If you left the front door open, the chase was on. After weeks of struggling to work with Chet, we found Troy. After one lesson, Chet was a different dog! Today you wouldn't even recognize him as the same dog. He's awesome off leash now, comes back to me every time, and he even has a few bff's in our neighborhood and has play dates as much as possible. Troy's training works!! It totally works!!! I cannot ever thank him enough. Thank you Troy!!! xoxo
~ Jill Boyce
Apollo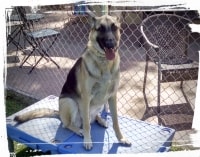 I am so thankful Troy was able to take in Apollo at such a short period of time before I had to leave for Europe. Apollo is a 2 yr old German Shepherd who needed a lot of training. Apollo had some serious anxiety issues when I dropped him off. He could not sit still or feel comfortable in his own skin. When I picked up Apollo he was completely different in his behaviors. He was very calm and listened so well. I am able to relax with him without hearing him whine or pace around the room. He seems more relaxed and at ease which is incredible to see how much this training has helped him. I couldn't be any happier with all the results I've seen from Apollo's training!
~ Linda Luchsinger
Rocky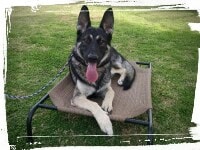 We adopted Rocky and soon found out that he would completely lose it when he saw another dog or when anyone came into our house. This escalated to dog fights in our home. Troy has taught us how to understand Rocky, how to "listen" to what he's telling us. We can now walk Rocky without having him completely lose it. When he barks at our guests we can tell him to go to his place and lay down and he will do it. Working with Troy has been great. We have learned so much from him that we've been able to use with our other dogs. We highly recommend Paws To Train Your Dog.
~ Scott Wheeler
Chinle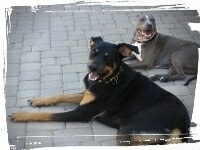 I hired Troy to help me train Chinle, but I was actually overwhelmed by my trio of dogs. Troy help me understand the true meaning of patience. All three of my dogs are now crate trained and listen to me without the use of bribery (I was a "treat" trainer before this!). My dogs are now relaxed and happy instead of anxious and crazy. Troy changed our household. Watching him work with our dogs was like watching a magic show. It was fascinating! I would recommend him to anyone needing help with their dog. He will definitely be the trainer chosen to work with any future dog we own. Thanks Troy!
~ Kristina Levinson