Hear What Our Clients Say About Us!

Sadie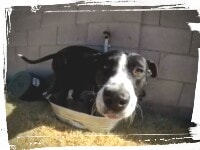 From the very beginning Sadie showed signs of anxiety, would ALWAYS pull on her leash, and acted aggressively if she saw another dog! We left Sadie with Troy and everyday he posted pics and videos of Sadie's progress. We were so incredibly happy! When we returned home, I was amazed Sadie was not pulling and I was able to walk her on my own!! She sits and lays down on command and we are able to take her out without worrying about her getting so crazy! She is more relaxed and plays with other dogs! I have fallen even more in love with my baby!!! Thank you Troy! - Catherine Khan

Maple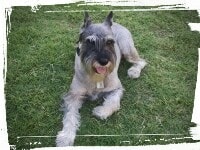 Troy has been absolutely amazing. He is 100% dedicated to my dog's wellbeing and training. His methods work, and Troy could not be more patient explaining and demonstrating his methodology. Maple has made great improvements in a very short amount of time. Strangers complement me on how calm and well behaved she is. If you're looking for a dog trainer, your search is over - I am confident you will be happy and achieve real results with Troy. - Maja Berlin

Bailey

We adopted Bailey, a sweet lovable dog...but only towards humans! She would lunge, growl, and bark at other dogs. Walks were a disaster! After trying some other dog trainers with no luck, we found Troy and enrolled Bailey in the Dogcation Program. Based on the video uploads Troy provided, we saw immediate improvement as she seemed to be happily socializing and playing with other dogs. Troy taught us how to keep her calm and be in control and now that she is home, walks are enjoyable for all parties! We highly recommend Paws to Train Your Dog! - Briana & Christopher Dvorchak

Lacy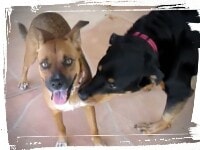 Our dog Lacy was a very fearful dog. She was afraid of ceiling fans, car keys, plastic bags, you name it. We enrolled Lacy in the Dogcation Program, and now she is so much calmer. Troy is always willing to personally help if we are having any struggles with her. His life-time guarantee is just that. We continue to work with Troy and believe in his training techniques. We are truly satisfied and could not be happier that we found Troy. Without his help we may have given up on our sweet dog. I would highly recommend Paws To Train Your Dog to anyone who needs help with their dog. Thank you Troy! - Dennis and Jean Anderson

Boomer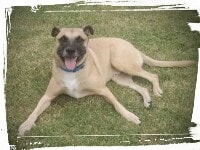 When we first got Boomer, he would lose it at the Vet's office, flopping around like a fish, alligator roles, cowering in the corner, growling, barking, biting...and that was with sedation. Boomer then started snapping at everyone in our home. We could no longer trust him. You can't help dogs unless you understand them. When Boomer would shake, I thought it was excitement. Troy read Boomer right away, he wasn't shaking with excitement, he was trembling with fear.
... [read more]
You have to know your dog, and Troy does.

All of the training has paid off. We didn't realize how much Boomer had improved until he got a sore paw and we had to take him to the vet. Troy met us at the Vet's office and walked us through how to work with Boomer with the Vet. Wow! He was NOTHING like before, he was calm and behaved like a good boy! Boomer allowed the Vet to come close and actually exam him. Troy has taught us so much on how to help Boomer. Thank you Troy! - Cookie & Tod Hegstrom

[hide again]

Lucy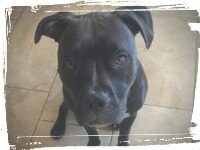 I work in the pet industry. My pets are my babies (yes, I am one of those). I wanted to have a dog I can take everywhere and after searching through many trainers I found Troy. I know he isn't the cheapest but his experience and his outlook peaked my interest. I read his reviews on Yelp before booking our evaluation. I wasn't sure what to think going into our evaluation but, he quickly put me to ease. He was very thorough, explained everything and taught me more about dogs, training etc than any class or workshop I have taken for my profession. I was so so so impressed.
... [read more]

After the first class, I could tell there was a change in my dog, even my parents saw a drastic change in her. What he said made sense. On the second class, I admitted I wasn't working with her as much as I prob should due to family matters and asked about boarding training. He stopped and talked to me about it all. He was extremely caring! He really thought she would do well, and it would help me, with the private classes. By the third class we had it down! We then attended his group class which he was so impressive with how he had all the dogs in check and to see how well my dog was doing.

My bond with Lucy is now closer than before. She is no longer as nervous and she is listening so much better. This was worth every penny and Troy stands behind his work! - Ciara Schmalfeld

[hide again]

Holly

Words cannot begin to thank Troy enough for helping us with Holly. In less than three hours he was able to teach us how to help calm our overly anxious Chihuahua. She no longer barks at the vacuum, dishwasher, or ice-maker thanks to Troy. We have seen a dramatic change in her behavior for the better! We had family over and they could not believe how calm and relaxed Holly was acting. Thank you Troy for helping us restore peace and quiet to our home! - Laura Stenzel

Falkor, Simon, Willis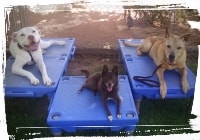 When our dogs started having frequent fights that led to vet visits, we knew we needed serious help. We've been working with Troy for almost a year now and our home is finally peaceful. We continue to practice what Troy has taught us and attend his group classes and Social Club with our dogs. We've seen some amazing transformations, but when things go backwards, Troy is there to help us. Without Troy, we would have had to re-home or put down one of our beloved dogs. Now our entire pack is the calmest and happiest that they've been in the 8 years we've had them.
... [read more]

Lastly, Troy also boards our dogs for us when we travel. This is a great peace of mind, to know our dogs are well-cared for and no more coming home from vacation and finding that we have to retrain them all over again! We whole-heartedly recommend Troy!! - Jeni Chase & Rebecca Holcomb

[hide again]