Check Out Reviews From Happy Clients!
Bunny & Cowboy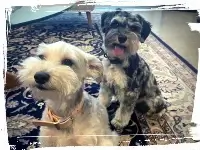 We could not be happier with the results from Paws To Train Your Dog! It feels like we have our lives back and our dogs are happier than ever. Cowboy & Bunny were both reactive with other dogs and had virtually 0 training. After searching for a Phoenix dog trainer near us, we reached out to Troy and have seen dramatic improvements. Now, they are both more confident, walk perfectly on the leash, can be safe and respectful around other dogs, follows sit/come/down/place commands, and more. We will forever recommend Troy with Paws To Train Your Dog!
~ Ben & Laura Frelka
Ronan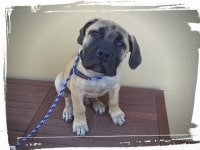 Our first mastiff, Rasmus, started showing signs of aggression. Troy instinctively picked up on his health issues, helped us learn what was happening and gave us effective methods to help him calm down. A year later, Troy helped us train, Ronan, our rambunctious, mischievous, playful mastiff puppy. Ronan is now a well-behaved dog. Troy is truly an advocate for dogs, wants what is best for them, and is quick to respond to any concerns or support we need. We're so happy and our experience with Troy has been nothing but satisfying. If you are looking for a holistic approach to dog training, Troy is your guy!
~ Eric & Kim
Kip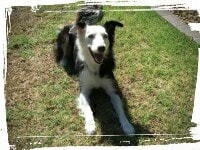 Kip bit and snapped at several people. We were concerned as we have kids and a grandbaby. All the trepidation I felt about our situation melted away after meeting Troy. He said Kip was not aggressive, but was a "fear" biter and that Kip had given several warning signs prior to biting, but we were not aware or noticed them. Troy will go the extra mile to make sure all your concerns are addressed, but don't show up without your homework done and expect results. When we strayed from training, so did Kip. But thankfully, if we have a problem or question, Troy helps us stay on track. Troy is the best!
~ Laura Stenzel
Maple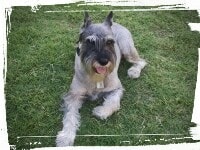 Troy has been absolutely amazing. He is 100% dedicated to my dog's wellbeing and training. His methods work, and Troy could not be more patient explaining and demonstrating his methodology. Maple has made great improvements in a very short amount of time. Strangers complement me on how calm and well behaved she is. If you're looking for a dog trainer, your search is over - I am confident you will be happy and achieve real results with Troy.
~ Maja Berlin
Bitsie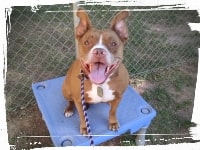 We took our Bitsie to Troy for aggression towards other dogs. Troy is a true dog lover and expert! He will not BS you about "fixing" your dog, but rather educate and teach you why your dog behaves certain ways and how training can help. I felt he advocated for Bitsie's best interest, which is so important when trusting someone else with your fur kid! *Biggest thing* This training is a long term investment in you and your pup's happiness, not a "quick fix." It took work on our part to see lasting results. Thankfully, we know if we have any further issues, Troy provides lifetime support to get back on track. Thank you, Troy!
~ Laney Meeker
Boomer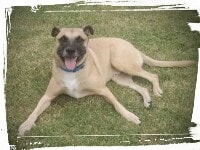 Boomer would lose it at the Vet, cowering in the corner, growling, barking...and that was with two types of sedation. Boomer then started snapping and biting at family and friends. We could no longer trust him. All of Troy's training has paid off. We didn't realize how much Boomer had improved until we took him to the vet. Troy met us at the Vet's office and walked us through how to handle Boomer. Wow! Boomer was calm and behaved like a good boy! Boomer allowed the Vet to come close and actually exam him. Troy has taught us so much on how to help Boomer. Thank you Troy!
~ Cookie & Tod Hegstrom
Huck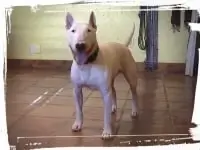 Happiness is having Huck so well behaved! Huck had OCD, chasing his tail, keeping balls & rocks in his mouth, would jump up on the kitchen counters, and was aggressive toward dogs and people. When we dropped him off for training, Huck launched over the driver seat, lunging, snarling, and barking at Troy. I must give a HUGE shout out to Troy at Paws to Train your Dog -amazing work with Huck- he is a new dog! Now when visitors come over, he doesn't bark or go crazy trying to attack them, I am in heaven! He obeys my commands and is calm - many thanks Troy!
~ Age Drago
Lucy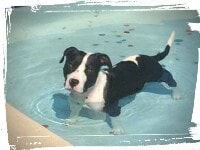 Lucy was aggressive toward other dogs, spinning out of control and pulling on the leash. At home, she would bark at any little thing and pace the backyard. She seemed so stressed out and insecure. We needed help. Troy helped us so much, not only with the correct ways to keep her calm before and after walks, but all around rehabilitated our dog. After I had my baby, Troy invited us back to do more training with his advanced group classes. He offers lifetime support to all his clients so these classes were free! She is now a much happier dog! I highly recommend Troy!
~ Audrey Fairley