Read What Our Clients Say About Us!

Rocky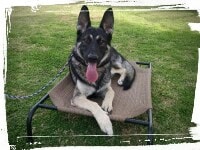 We adopted Rocky and soon found out that he would completely lose it when he saw another dog or when anyone came into our house. This escalated to dog fights in our home. Troy has taught us how to understand Rocky, how to "listen" to what he's telling us. We can now walk Rocky without having him completely lose it. When he barks at our guests we can tell him to go to his place and lay down and he will do it. Working with Troy has been great. We have learned so much from him that we've been able to use with our other dogs. We highly recommend Paws To Train Your Dog.
~ Scott Wheeler

Chinle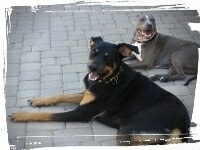 I hired Troy to help me train Chinle, but I was actually overwhelmed by my trio of dogs. Troy help me understand the true meaning of patience. All three of my dogs are now crate trained and listen to me without the use of bribery (I was a "treat" trainer before this!). My dogs are now relaxed and happy instead of anxious and crazy. Troy changed our household. Watching him work with our dogs was like watching a magic show. It was fascinating! I would recommend him to anyone needing help with their dog. He will definitely be the trainer chosen to work with any future dog we own. Thanks Troy!
~ Kristina Levinson

Ringo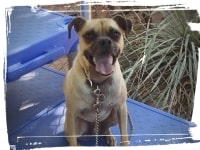 Troy is a master trainer and dog whisperer. Anyone thinking of enrolling in his training program, this training works when the humans follow the program. Consistency is the key. When it seems like your pup might be regressing, check yourself first. I made a lot of training mistakes, thankfully Troy is always supportive and patient. Thanks Troy!
~ Nick & Christine Rizzo

Bogie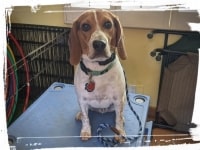 Troy helped us train Bogie, our beagle puppy. With Troy's help Bogie (and Bogie's humans) learned basic obedience, leash skills, nutrition, & much more. Our sessions with Troy were very informative & Bogie is a different dog. He listens, is much calmer, & well behaved. Troy was great about answering our questions & is very responsive when you reach out for help. Troy is very knowledgeable & tailors his training to what your dog needs, he isn't a one size fits all trainer. We are incredibly lucky to have found Troy - we are better dog owners & we have a happier dog!
~ Erika & Jeff Wimble

Holly

Words cannot begin to thank Troy enough for helping us with Holly. In less than three hours he was able to teach us how to help calm our overly anxious Chihuahua. She no longer barks at the vacuum, dishwasher, or ice-maker thanks to Troy. We have seen a dramatic change in her behavior for the better! We had family over and they could not believe how calm and relaxed Holly was acting. Thank you Troy for helping us restore peace and quiet to our home!
~ Laura Stenzel

Grunzford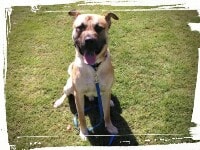 I was afraid I would have to give up Grunzford, a 75lb bundle of energy, because my son and I were bruised and nicked from his mouthing and rough play. That changed the day we brought our dog to meet Troy. I am proud to lead my new friend for a walk. Every interaction I have had with Troy has been excellent. He responds to my e-mails promptly and has bent over backwards to accommodate me. I highly recommend Troy to anyone in need of a dog trainer and consider the money well spent.
~ Stewart McDermid

Nemo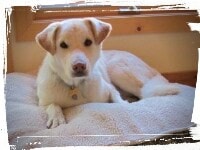 Nemo's aggression kept leaving me feeling a fool and several other trainers ended up exasperated by Nemo. They did not know how to deal with him. My friends became "busy" when invited to our home. Nemo responded to Troy positively, finally we found the right person! Troy's guidance has proven invaluable and Nemo is now a well-behaved dog, able to socialize with other dogs, and my friends can visit and be safe. I started getting comments like "Your dog is so sweet and well-behaved!", "Is this the same dog?" Thank you Troy!
~ Chiara Azzini

Bear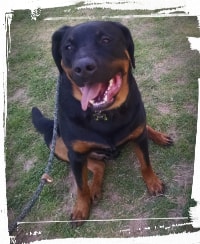 One day Bear saw someone on a bike, chased that person and tried to bite another. I was convinced I had a dangerously aggressive dog on my hands and felt hopeless that I may need to get rid of my dog. The first time Troy met Bear, he assured me he wasn't aggressive but highly anxious and insecure. This changed the way I looked at him and treated him. Troy truly is a dog whisperer and has also helped with my other dog as well. Troy goes above and beyond what is expected from an ordinary trainer and is well worth the cost. The piece of mind is so worth every penny. Don't give up on your pet because they're "bad", train them, and they can be your greatest companion.
~ Jen Shafer