Success Stories!

Sinbad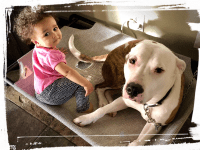 Our dog was not good around kids and we were expecting a baby. When family came over with their babies, we were not sure if he wanted to hurt them so we locked him away. We just did not trust him and he is a powerful dog. We already invested a lot of time and money in trainers who couldn't help when we found Troy at Paws To Train Your Dog. Sinbad still gets excited, but with consistency, he's now the best trained dog we ever had. He was a little weary of our daughter in the beginning, but they are now best buddies. I can walk him with our baby in the stroller without any trouble! Thank you again Troy for all your help! - Shawn & Carolin

Sansa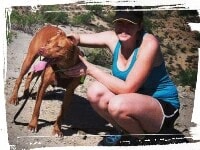 Sansa was in a state of constant anxiety. I couldn't walk her without her pulling hard on the leash, whining and crying at other dogs and people. I tried researching training methods myself, but nothing worked. Troy's methods not only instilled new habits in my baby girl, but in my own behaviors. I learned a lot about myself and how I can affect my dog's anxiety. Sansa is a completely new dog. She socializes with other dogs in a calm, polite manner. She is an absolute joy to take for walks and watch her explore the world's smells. I highly recommend Troy to all those who are struggling as pet owners. Troy helped us so much. Thank you Troy! - Cindi Maple

Aubie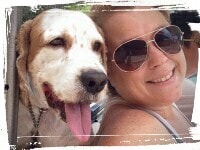 Aubie became aggressive, especially over food. We did a lot of research, trying lots of things, becoming more and more confused and frustrated, eventually we just tried to live with it and avoid it. After 4 bites, including my 5 year old niece, we had no choice but to crate him when anyone came over. I couldn't trust him. He was a liability. I reached out to people I trusted and was guided to Troy.

Since we live on an island in Mexico, Troy worked with us remotely on removing Aubie's anxiety and fear of strangers. Then Aubie bit me. As a last chance, we brought Troy to us.
... [read more]
While helping Aubie, Troy also provided free dog socialization sessions for islanders and their dogs. During these sessions, Aubie was off leash with 8 other dogs and their owners and handling it beautifully. He taught us all how to deal with not-so-nice feral street dogs that are often hanging around here. By the end of Troy's week with us, Aubie was snuggled up to him riding in the back seat of our golf cart. Every day, Aubie amazes me more and more in how much better he is. Aubie is still here, we can take him anywhere, and we are still a happy family. Troy saved Aubie and our family. Thank you Troy! - Marla Bainbridge

[hide again]

Nemo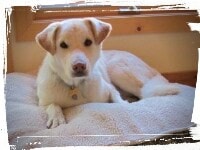 Nemo was exhibiting unpredictable behaviors, becoming aggressive, but we thought we could help him. I tried reading dog training books, taking him to obedience schools and hiring dog trainers. He made progress, but kept leaving me shattered, confused, feeling a fool. Trainers had ended up humiliated and exasperated by Nemo. They did not know how to deal with him. My friends had started to become "busy" when invited to our home. I was beginning to wonder if he was one of those dogs who could not be helped.
... [read more]

Troy was referred to me by my last trainer. The moment he walked into our house, I was impressed by his professionalism, skills and calm energy. I was relieved when Nemo responded to him positively. Finally we found the right person! Troy's guidance has proven invaluable and both Nemo and I have grown tremendously. I treasure the bond I now have with my dog. I can walk with a well-behaved dog. Nemo is able to socialize with other dogs and be comfortable around people. My friends can visit and be safe. I started getting comments like "Your dog is so sweet", "Your dog is so well-behaved!", "Is this the same dog?" Thank you Troy! - Chiara Azzini

[hide again]

Durango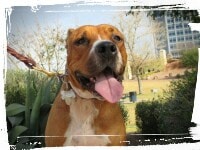 I could not walk Durango without him lunging at other dogs and getting into dog fights. I soon became "that lady with the nasty dog." I started walking him super early to avoid other dogs. Our mailman hated coming to our house and when people came to the door they were terrified. I was quickly referred to Troy by another trainer.
... [read more]

After completing Troy's training program and attending several of his dog socialization classes, Durango is a completely different dog. I've had three different people comment to me what a well behaved dog he was, and that he was "so calm". Thanks Troy! Me and Mr. D are forever grateful! - Holly Griffin

*update: due to circumstances in our home, we were no longer able to keep Durango. Troy welcomed him into his own pack where he will now be in his furever home. We miss Mr D, but we know that he is happy!

[hide again]

Bucho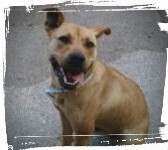 My Bucho lunged and barked on the walks, got out of the backyard, and got into fights with other dogs. I watched Cesar Millan's Dog Whisperer and countless youtube videos, but I eventually gave in and looked for help. My Vet and another trainer said my dog would always be high strung and could only be managed with medication. After a year I was ready to give up. Then I found Troy, signed up for private dog training lessons and it wasn't long before Bucho was able to be out playing with Troy's dogs. Bucho is a new boy! Now we can go anywhere together! Thanks Troy! - Marc Redding

Kona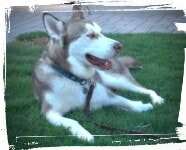 Before finding Troy, I went through 3 other trainers. I had almost given up hope that I wouldn't be able to stop Kona's human aggression. Troy then turns my understanding of dog training 180 degrees. Kona is now without doubt a different dog and has turned into a happy and balanced dog. I now feel completely safe with him whether just sitting around or playing and running outside. I just wanted a happy, content dog who could be an addition to my family. With Troy's help, that is exactly what I now have. Thank you Troy! - Gabby Sabol

Rocky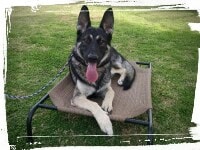 We adopted Rocky and soon found out that he would completely lose it when he saw another dog or when anyone came into our house. This escalated to dog fights in our home. Troy has taught us how to understand Rocky, how to "listen" to what he's telling us. We can now walk Rocky without having him completely lose it. When he barks at our guests we can tell him to go to his place and lay down and he will do it. Working with Troy has been great. We have learned so much from him that we've been able to use with our other dogs. We highly recommend Paws To Train Your Dog. - Scott Wheeler