Reviews From Happy Clients!
Kina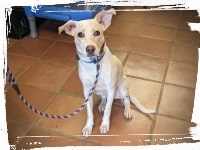 We adopted a feral, very shy, and confused dog from Mexico. We struggled to understand her, even after owning & training 6 dogs we just weren't getting anywhere with Kina. After working with Troy he was able to help us better understand Kina and get her trained. Now we are able to enjoy Kina and have her be an important part of our family. Our journey has not ended but we are now on a solid foundation to move forward because of Troy's knowledge, techniques and hands on work with us. Thanks Troy!!
~ Sharon Queen
Nala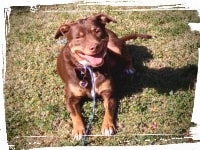 My Nala had some severe behavior issues that were well beyond what I could fix despite having dogs all my life. My vet recommended Troy who eventually determined that she probably had 5‑week puppy syndrome. Troy gave us all his experience and expertise, many times having to think outside the box to help Nala. Nala has stayed with Troy a few times, each time for different issues, and Nala always comes home a better dog. It has been a journey, but she is so much better and is getting better all the time. Troy did not give up on her and neither have I. He helped save Nala's life. Thank you Troy!
~ Michele Warner
Winston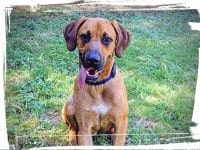 Taking Winston for a walk was too much for me, I was worried he was becoming aggressive. I worked with another trainer who eventually referred me to Troy. I was feeling defeated and didn't feel like I was giving Winston the best life, but after only one visit with Troy everything changed for me. Now I can walk with confidence, totally enjoying our walks and we are having so much fun!! Winston no longer pulls, he's not freaking out and barking at everything, and no more chasing bird shadows! Troy literally changed our life! Thank you Troy!
~ Patricia Perez
Sinbad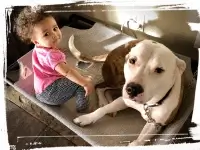 Sinbad was not good around kids and we were expecting a baby. When family came over, we were not sure if he wanted to hurt them, we just did not trust him, so we locked him away. We already invested a lot of time and money with local in-home dog trainers who couldn't help when we found Troy at Paws To Train Your Dog. Sinbad is now the best trained dog we ever had. I can walk him with our baby in the stroller without any trouble, they are now best buddies! Thank you again Troy for all your help!
~ Shawn & Carolin
Jax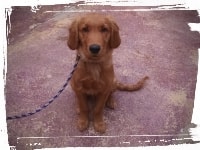 Jax was just a puppy but as soon as he started biting, jumping, counter surfing, we needed help. Troy really helped us understand what our pup needed and how we could help him. Setting ground rules and constantly working with our puppy has helped bond us closer and understand each other! None of it would have been possible without Troy!
~ Zoe & James
Stanley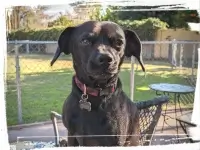 After searching for puppy training classes near us, we met with Troy. He has been an amazing help with our new puppy! His knowledge and commitment are second to none! He worked with us to help make Stanley's transition to his forever home a smooth one. Troy has always been available for follow-up lessons and email advice after the training to encourage us and answer any questions that have come up. I highly recommend Troy for puppy training!
~ Beth & Don Schmal
Wrigley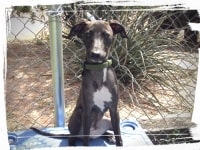 We adopted Wrigley and fell in love with her. However we struggled with her puppy training. When left alone she had separation anxiety, barking and whining, and going potty in the house. If crated she would bite the crate and thrash around to the point of hurting herself. We were relieved when Troy said he could help! While Wrigley stayed with Troy, he kept us updated on her progress with emails, photos, and videos. Wrigley is no longer a scared little puppy, listens to us using the commands she learned, and can spend hours in her crate with zero anxiety. We highly recommend Paws To Train Your Dog
~ Victoria & Morgan
Spencer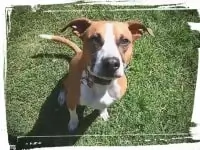 We put our younger dog, Spencer in the board & train program while I did weekly private training lessons with our older dog, Mochi. Troy was fantastic to work with. He is very flexible to go over whatever you or your dog are struggling with and sets you up for success after the lessons are over. Our dogs were anxious messes before, and now we know how to communicate with them and they know how to relax. I recommend Paws to Train Your Dog to anyone who wants their dog trained right with an expert dog trainer who cares about your success.
~ Taylor & Savannah Finklea