Success Stories!

Sinbad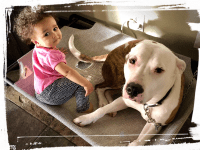 Our dog was not good around kids and we were expecting a baby. When family came over with their babies, we were not sure if he wanted to hurt them so we locked him away. We just did not trust him and he is a powerful dog. We already invested a lot of time and money in trainers who couldn't help when we found Troy at Paws To Train Your Dog. Sinbad still gets excited, but with consistency, he's now the best trained dog we ever had. He was a little weary of our daughter in the beginning, but they are now best buddies. I can walk him with our baby in the stroller without any trouble! Thank you again Troy for all your help! ~ Shawn & Carolin

Jax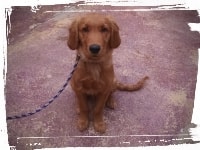 Jax was just a puppy but as soon as he started biting, jumping, counter surfing, we needed help. Troy really helped us understand what our pup needed and how we could help him. Setting ground rules and constantly working with our puppy has helped bond us closer and understand each other! None of it would have been possible without Troy! ~ Zoe & James

Lucy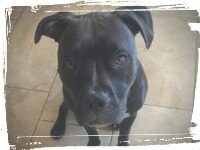 I work in the pet industry. My pets are my babies (yes, I am one of those). I wanted to have a dog I can take everywhere and after searching through many trainers I found Troy. I know he isn't the cheapest but his experience and his outlook peaked my interest. I read his reviews before booking our evaluation. I wasn't sure what to think going into our evaluation but, he quickly put me to ease. He was very thorough, explained everything and taught me more about dogs, training etc than any class or workshop I have taken for my profession. I was so so so impressed.
... [read more]

After the first class, I could tell there was a change in my dog, even my parents saw a drastic change in her. What he said made sense. On the second class, I admitted I wasn't working with her as much as I prob should due to family matters and asked about boarding training. He stopped and talked to me about it all. He was extremely caring! He really thought she would do well, and it would help me, with the private classes. By the third class we had it down! We then attended his group class which he was so impressive with how he had all the dogs in check and to see how well my dog was doing.

My bond with Lucy is now closer than before. She is no longer as nervous and she is listening so much better. This was worth every penny and Troy stands behind his work! ~ Ciara Schmalfeld

[hide again]

Stanley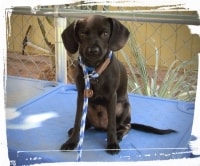 Troy has been an amazing help with our new puppy! He has spent just as much time educating us as he has working with Stanley. His knowledge and commitment are second to none! He has worked with us to understand his needs and cues, and how to make the transition from shelter to his forever home, a smooth one for Stanley. Troy has always been available for follow-up, with email advice after the training to encourage us and answer any questions that have come up. I highly recommend him for puppy training! ~ Beth & Don Schmal

Ceelo, Elsa, Phoebe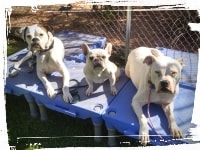 We could not handle our dogs, they were lunging, barking, and snapping at people. We needed help. Troy has done so much to improve the quality of all of our lives! In 3 weeks, our dogs have learned more than they had in 6 years and 4 dog training classes at Petsmart. Troy is a giver in this world of takers, he gives support and is very knowledgeable. Troy helped us on communication with our dogs, watching their body language, techniques for handling and so much more. Neighbors in our retirement park stop us and comment on the changes they see in our dogs. Its amazing. I highly recommend Paws To Train Your Dog. You saved our sanity. Thank you Troy! ~ Diane and Randy Manulak

Falkor, Simon, Willis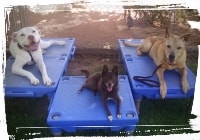 When our dogs started having frequent fights that led to vet visits, we knew we needed serious help. We've been working with Troy for almost a year now and our home is finally peaceful. We continue to practice what Troy has taught us and attend his group classes and Social Club with our dogs. We've seen some amazing transformations, but when things go backwards, Troy is there to help us. Without Troy, we would have had to re-home or put down one of our beloved dogs. Now our entire pack is the calmest and happiest that they've been in the 8 years we've had them.
... [read more]

Lastly, Troy also boards our dogs for us when we travel. This is a great peace of mind, to know our dogs are well-cared for and no more coming home from vacation and finding that we have to retrain them all over again! We whole-heartedly recommend Troy!! ~ Jeni Chase & Rebecca Holcomb

[hide again]