Read What Our Clients Say About Us!

Ember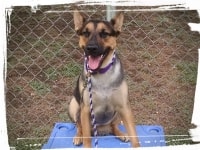 We adopted Ember and she turned our lives upside down with bad behaviors. Troy helped us see that Ember was just a very insecure and anxious dog that craved structure and clear direction. Ember would bark at us constantly, chew our belongings, nip at us, pull on her leash, counter surf and terrorize our other dog. After Troy's doggie bootcamp, Ember is like a new pup! She is finally calm, happy and content, and so are we. We are also using what Troy taught us with our other dog and can already see a huge difference. I cannot say enough about Troy and Paws To Train Your Dog.
~ Dana & Brandon

Lucy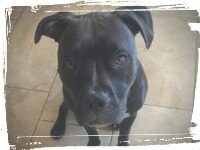 I work in the pet industry. My pets are my babies (yes, I am one of those). I wanted to have a dog I can take everywhere and after searching through many trainers I found Troy. I know he isn't the cheapest but his experience and his outlook peaked my interest. I read his reviews before booking our evaluation. I wasn't sure what to think going into our evaluation but, he quickly put me to ease. He was very thorough, explained everything and taught me more about dogs, training etc than any class or workshop I have taken for my profession. I was so so so impressed.
... [read more]

After the first class, I could tell there was a change in my dog, even my parents saw a drastic change in her. What he said made sense. On the second class, I admitted I wasn't working with her as much as I prob should due to family matters and asked about boarding training. He stopped and talked to me about it all. He was extremely caring! He really thought she would do well, and it would help me, with the private classes. By the third class we had it down! We then attended his group class which he was so impressive with how he had all the dogs in check and to see how well my dog was doing.

My bond with Lucy is now closer than before. She is no longer as nervous and she is listening so much better. This was worth every penny and Troy stands behind his work!
~ Ciara Schmalfeld

[hide again]

Lacy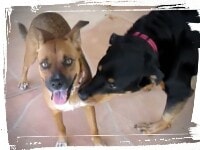 Our dog Lacy was a very fearful dog. She was afraid of ceiling fans, car keys, plastic bags, you name it. We enrolled Lacy in the Dogcation Program, and now she is so much calmer. Troy is always willing to personally help if we are having any struggles with her. His life-time guarantee is just that. We continue to work with Troy and believe in his training techniques. We are truly satisfied and could not be happier that we found Troy. Without his help we may have given up on our sweet dog. I would highly recommend Paws To Train Your Dog to anyone who needs help with their dog. Thank you Troy!
~ Dennis & Jean Anderson

Ceelo, Elsa, Phoebe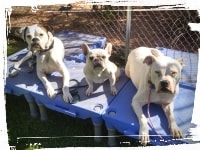 Our dogs were lunging, barking, and snapping at people. We needed help. In 3 weeks, our dogs have learned more than they had in 6 years and dog training classes at Petsmart. Troy helped us on communication with our dogs, watching their body language, techniques for handling and so much more. Neighbors in our retirement park stop us and comment on the changes they see in our dogs. Its amazing. I highly recommend Paws To Train Your Dog. You saved our sanity. Thank you Troy!
~ Diane & Randy Manulak

Falkor, Simon, Willis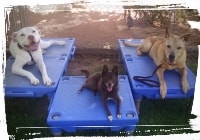 Our dogs started having frequent fights that led to vet visits, we knew we needed serious help. We've been working with Troy and our home is finally peaceful. We continue to practice what Troy has taught us and have seen some amazing transformations, but when things go backwards, Troy is there to help us. Without Troy, we would have had to re-home or put down one of our beloved dogs. Now our entire pack is the calmest and happiest that they've been in the 8 years we've had them. We whole-heartedly recommend Troy!!
~ Jeni & Rebecca

Daisy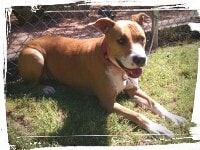 Our Daisy was super hyper, terrified of everything, and lunged and growled at other dogs. I took her to a few other trainers, but she didn't learn much and I still struggled with her. Out of desperation, I found Paws To Train Your Dog and I couldn't be happier. Troy helped me train Daisy, but primarily trains me! Daisy is kind of a special needs dog, so she may need lifelong help... That's okay, because once you go through training with Troy, he offers lifetime support! Thanks Troy!
~ Susan Celaya