Reviews from Happy Clients!

Bandit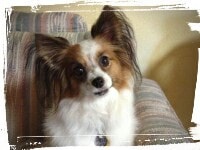 My little Bandit started being aggressive to other dogs, lunging, growling, barking while walking him. I tried all kinds of things and nothing was working. After 2 training sessions with Troy, the walk was so much easier. My Bandit even walked between two large dogs - no aggression - no fear - it was wonderful! I've taken him back to the petstores many times and he now ignores other dogs - no lunging - no pulling. Oh, he also used to roll in cat poop (ferals are getting into my backyard) and Troy showed me in a matter of minutes how to stop this - it works! Thank you Troy! - Dory Pemberton

Barnaby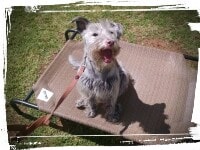 Barnaby cowered when anyone tried to pet him, was afraid of his doggy-door and loud noises, and had separation anxiety. He would hear a dog bark or see a person walk in front of the house and go nuts. He lunged and bit a few dogs and even some family members. We went through a few trainers and began to think that nothing could be done. Troy helped Barnaby learn to be off leash and coexist around other dogs and people! Barnaby began sniffing and actually playing with other dogs like a normal, well adjusted dog! He is a calmer, happier dog. Thank you Troy! - Darryl & Betty Oesterle

Odie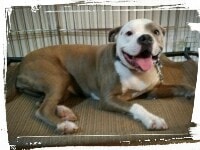 Odie was a mess of poor behaviors, jumping incessantly, lunging at everyone, nipping, and even bit my mother. I was ready to give up. Troy assured me he could help us, yet I wasn't confident because I didn't have any sort of bond with her. During the consultation, I received a plethora of information about dogs as well as detailed information about Odie. I was overwhelmed and confused, but assuaged by Troy's knowledge and confidence. Troy said Odie was a ticking bomb and without proper training she would eventually hurt someone. I knew in my heart that he was right.
... [read more]

After our first training session, Odie was no longer jumping on me, attacking my feet, and even stopped eating socks! She was calmer and listening to me! I also learned that my nervousness and anxiety were translating into a nervous and anxious dog. Troy taught me to relax in such a way that my entire attitude – even with my kids! – has evolved into an awareness of how I carry my daily stresses.

Odie is not perfect, but she is SO much better, and our bond has grown. She respects me, listens to me, and I believe loves me in a way that only a dog can love her human. I adore her and am so glad that I invested in Troy's training. Troy probably saved Odie's life, and he has enriched mine with lessons that go beyond dog obedience. I now have the dog I was seeking, and my relationship with Odie is stronger for the training experience we shared. Thank you, Troy!! - Laura Dix

[hide again]

Kip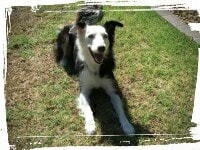 Within the first week of Kip being in our home, he bit one person and snapped at several others. We were concerned as we have three teenagers and my grandbaby. All our fear and trepidation melted away after meeting with Troy. Troy is one of the most relaxed, calm, and peaceful persons I think I have ever met. He agreed Kip was not an aggressive dog, but instead was a "fear" biter and that Kip had probably given several warning signs prior to biting, but we were not aware of them.
... [read more]

I was concerned about the price for what we thought would be a typical dog obedience class. What we got was a wonderful and amazing journey into the life of our dog. Troy is willing to go the extra mile for you, but don't show up without your homework done, a handful of excuses, and expect results. We have had some minor setbacks at times, but that is because we failed Kip. When we stray from the concepts taught in class, so does Kip. When we have a problem or question, Troy responds almost immediately and helps us stay on track. If you are looking to develop a meaningful, lifelong relationship with your dog, look no further. Troy is the best! - Laura Stenzel

[hide again]

Hobbit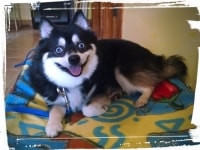 We started training sessions with Troy for our dog Hobbit and we are so impressed with Troy's knowledge, commitment, insight and techniques! He spends as much time educating us as he does Hobbit and we always leave feeling good about what we've learned and look forward to the next session. Thank you Troy for making this world a better place for dogs and their owners! You are the best! - Jan & John Petrie

Ringo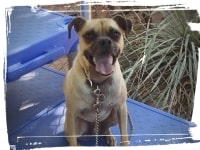 Troy is a master trainer and dog whisperer. Anyone thinking of enrolling in his training program, this training works when the humans follow the program. Consistency is the key. When it seems like your pup might be regressing, check yourself first. I made a lot of training mistakes, thankfully Troy is always supportive and patient. Thanks Troy! - Nick & Christine Rizzo

Chet

Chet used to destroy his crate and our house, constantly whine, and pull on his leash, lunging and barking at other dogs. If you left the front door open, the chase was on. After weeks of struggling to work with Chet, we found Troy. After one lesson, Chet was a different dog! Today you wouldn't even recognize him as the same dog. He's awesome off leash now, comes back to me every time, and he even has a few bff's in our neighborhood and has play dates as much as possible. Troy's training works!! It totally works!!! I cannot ever thank him enough. Thank you Troy!!! xoxo - Jill Boyce

Lucy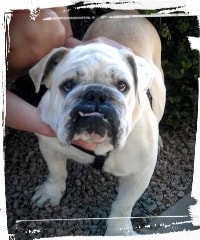 As a massage therapist, I have clients come to my home, so it's important I have a well behaved dog. Lucy has many health issues that affect her behavior and it became apparent I needed some help. Even though I've had dogs most of my life I really hadn't put much thought into why my dog is behaving a certain way. Sometimes in life it's worth the time and money to seek the help of a professional and this was a great investment for me. I have to say it's quite amazing to watch someone "read" a dog. Troy takes the time to explain behaviors and makes training look so easy. I find it refreshing to find someone that is so passionate about their work. I can see Lucy's excitement and desire to learn when he's around. Troy's biggest obstacle is to train me as I can be as stubborn as my bulldog :) Thanks Troy! - Heather Shiers