How To House Train Your Dog
Is your dog piddling everywhere
or leaving "doggy deposits" in your home?
Want your dog to stop chewing
or getting into everything?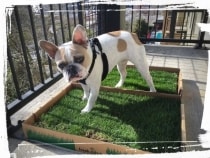 Until house-trained, remember "Confine & Observe". From your dog's point of view there is no wrong place to go potty, he'll feel like going and just do it. Using a doggy door or opening your back door every couple of hours to let your dog out will not house train your dog. If you allow your dog to free roam unsupervised, you should also expect other unwanted behaviors such as chewing, getting into trash, and stealing food or clothing. House training will help prevent mistakes and establish good habits.
First, develop a food and water schedule. Routinely feed your dog each day at the same time, but never close to bed time. Before going to bed, and before your dog's last potty break, take away your dog's bowls (don't forget to wash them & put them back first thing in the morning!). Feeding your dog on a schedule will make potty breaks more predictable.
Crate train your dog. Use a properly sized crate that is large enough for your dog to stand up and turn around, but no bigger. If the crate is too big, he'll think he's got a bedroom with a bathroom built in. He'll potty in one corner and sleep in the other.
During the house training period, your dog should be confined to a crate if you are unable to observe your dog with your full attention. Otherwise your dog should be on-leash and tethered to you. Know that puppies will need to go potty after they wake up, eat, drink, or play. At the first sign your dog needs to go (circling, sniffing, anxiousness, whining), or you catch him in the act, quickly interrupt and escort him outside to go potty! Take your dog to the spot where you prefer him to go and give him at least 10 minutes to do his business. Say nothing, be quiet, or you can put too much pressure on your dog. If he doesn't do anything, place him back in the crate for 20 minutes, then bring him back to the spot. Repeat until he eliminates, then praise quietly. Don't get over excited when your dog goes in the right place or he may stop going. You don't want a cheering squad when you go either, do you? Be sure to spend some time with your dog before bringing him back inside, at least 5-10 min. If you immediately bring your dog in after he relieves himself, he may learn to hold it so he can spend more time outside.
These protocols make it near impossible for your dog to have an accident or be destructive. Using a leash or drag-line, spend time playing & training with your dog, letting him wander outside the crate. Observe your dog 100%. This allows you to interrupt and stop unwanted behaviors such as eliminating, barking, running out of site, chewing, getting into the garbage, counter surfing, or rushing the front door by simply stepping on the line or giving a few light tugs. By being diligent now, you will be able to give your dog years of freedom without worries.
When mistakes happen, stay calm and don't make a big deal about it. Do NOT scold or punish your dog. Remember, it is YOUR FAULT for not paying attention. If needed, go back a step in training, reducing freedom for a few days, and be more vigilant. You may also need a friend or neighbor to assist you with your dog's house training.
If your dog is house-trained and is suddenly having accidents, visit your Veterinarian to rule out any medical issues as well as have your dog neutered/spayed. If your dog eliminates when he greets people or is disciplined, it is usually from over-excitement or fear. Insist that people ignore your dog until he is calm.
Be patient. It won't be long before you'll have a dog that you can trust in your home!