Enjoy Walking Your Dog Again!
Walking your dog is a great form of bonding and exercise you can share with your canine companion (so put away the cell phone!). However, allowing dogs to walk out in front of you can cause them to become anxious and pull as they try to anticipate where you both are going. As they pull, frustration can build causing them to lunge and bark at others.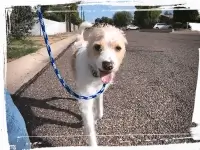 The most effective way to stop your dog from pulling on walks, is to train your dog to follow you. This allows your furry friend to calmly observe the environment while also paying attention to you, greatly reducing leash pulling and reactivity. Yet before you even step outside, remember "no forward movement unless everyone is calm". Make sure both you and your dog are calm before, during, and after attaching the leash, opening the door, and stepping outside.
When you're ready to start walking, the easiest way to get your dog to follow you, is to get your dog behind you. The quickest way to do this is to simply turn around and walk in the opposite direction. Give your dog plenty of slack in the leash and start walking. The moment your dog begins to pass you or goes in another direction, turn around and start walking away from your dog. You may need to give a few gentle but firm "bumps" on the leash to get your dog's attention. Be mindful to not yank, pull, or restrain your dog with the leash or you will stress your dog. Keep repeating this until your dog stays behind you, following you or at least near your side on a loose leash.
It will be best to practice where there are very little distractions. Potty breaks are a perfect opportunity to practice as you take your dog outside and while returning back inside! Be patient as some dogs are more challenging than others. It could take a few days or a week to teach your dog this new way of walking. Once you and your dog master this, then start going for walks in public, repeating this process as needed.