How To Crate Train Your Dog
Need a break from your dog issues?
Try it for 2 weeks!
"How would YOU like to be stuck in a crate?" Not much, but if you put in a mini-bar and WiFi, I'm in! Dogs are denning animals who, by choice, prefer to rest in small enclosed spaces. Your dog needs and wants a comfortable, secure place to "get away", much like when kids build forts.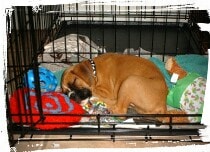 Know that dog professionals (trainers, groomers, veterinarians, rescues, etc) all use confinement tools to help manage a dog's behaviors when unsupervised. Leaving your dog to run around unsupervised not only doesn't help with potty training as your dog never learns to hold it, your dog can also pickup many bad behaviors such as digging, chewing, and barking incessantly. Leaving your dog unattended can also be life threatening. Ingesting clothing or choking on rawhide or a toy can put your dog in an emergency situation. In a multi-dog home, a dogfight can result in expensive vet bills and sometimes loss of a pet. Like the use of playpens and cribs for children, using a crate is simply a safe way to prevent and protect your dog from becoming injured or getting into trouble when you are unable to supervise him.
Some dog owners have tried using crates, but instead of properly conditioning the dog to view the crate as a comfortable, secure place to be, they coerced their dog into entering and their dog perceived it as a place of punishment and abandonment and now avoids going into it.
To help your dog learn to enjoy his crate:
The crate should be just big enough for your dog to stand up and turn around in, no larger. If the crate is too big, block off a portion in the back. You can find quality crates on Amazon and Chewy.
Place crates and dog beds in calm, quiet areas where your dog can feel comfortable and not abandoned. The best places are away from distraction areas such as next to doors or windows that have a lot of traffic, but in spots where you can keep an eye on your dog. Be aware that placing your dog below a TV can make some dogs anxious as they think that everyone is staring at them, not the TV. Be sure to provide chew toys to occupy your dog, and something comfortable to sleep on.
Use a leash to help guide your dog into the crate. Any attempt to enter the crate should be rewarded with praise and a treat. Leaving the crate door open, say "crate" in a calm happy voice and keep rewarding your dog each time your dog goes deeper inside the crate. Once your dog stays inside the crate, praise and reward, then close the crate door. Repeat this several times before crating up for the night.
Aside from "crate", don't talk to your dog before and after crating. This makes the crate unemotional.
Never close or open the crate door unless your dog is calm and quiet. Discourage and do not give in to any crying, whining, or barking or you will teach your dog that this behavior gets him out. Dogs who are exercised and socialized daily accept the crate much easier than those who don't.
Occasionally lock your dog OUT of the crate, preventing him from getting his favorite chew toys. Let your dog see you toss in a few tasty treats, then walk away. Let him spend 10 min wishing he could get IN there. Then latch him inside the crate while you run a quick errand.
You will want to take your dog out to potty before and after crating. Be patient, and allow your dog enough time to go so you can be sure that your dog is "empty". Give your dog an extra 5 min after relieving himself before going back inside, otherwise he may try to hold it so he can stay outside. If your dog suddenly wakes up in the middle of the night, he probably needs to go potty. Get up, and quietly without any fuss, hold onto his collar and leash him, and then quickly take him out.
Don't let your puppy stay in confinement for more than 2-4 hours, dogs no more than 6-8 hours. Any longer than that is abusive and can create unwanted behaviors associated with anxiety. If you need to, have someone give your dog a potty break at lunch or consider enrolling your dog in doggy daycare. You can also place your dog's crate up against a doggy door and place some fencing up on the outside of the doggy door. This allows your dog to go outside to a confined area to potty, but stay crated while inside, preventing unwanted behaviors.
Be patient. It won't be long before your dog can behave and enjoy his freedom.