How to Safely Break Up Dog Fights
As dog owners, knowing how to break up a dog fight is a skill we all need to know and hope we never need to use. It is important to first recognize that breaking up a dog fight is never safe, it is extremely dangerous and prevention is the best remedy. Please consult with a professional before attempting any of the following.
Understand that most dogs do not want to fight, they just want to get through their day with as little conflict as possible. Aside from an underlying medical issue, most aggressive behaviors are a result of fear or lack of proper socialization and are really just a dog's way of trying to avoid a fight and are communicating "back off, give me space". It is important to allow natural conflict resolution, so they can learn better social skills. It is when we interfere by panicking, yelling, and running at them that we can escalate it into a fight. Before allowing dogs to interact, take the time to see if they are relaxed and comfortable. If there are no issues (tension, staring, growling etc), drop the leashes and allow them to interact. If things go wrong, you can safely grab the leashes to separate them.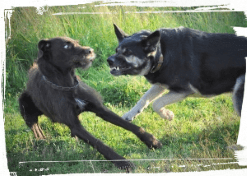 If you are unsure if dogs are starting to fight, stay calm! Call them away from each other. If they are not trained to come when called, it is best to stay quiet and calmly walk between them, separating them. A broom or laundry basket can be used as an extension of yourself to help calmly separate them. Do not use these tools to threaten them or beat them, just use them as a barrier to calmly separate them. Most of the time, they are hoping someone will walk between them, diffusing the tension. Sometimes simply squirting them in the face with a squirt bottle will get them to change their minds.
If a dog fight does break out, it is important to stay calm! Do not yell at or hit the dogs as you will just exacerbate things and escalate the fight. Do NOT try to rush in and immediately grab them to stop a dog fight. If you do, your chances of being badly bitten are extremely high as they may see you as another aggressor and redirect a bite toward you or you might receive a bite that was intended for your dog. Staying calm allows you to observe what is happening and how to separate them as safely as possible. If there isn't any actual biting going on, spraying the dogs with a high pressure water hose, throwing a large ball at them, or using an air horn may convince them to separate. If they do not separate, or there is actual biting, it is time to get involved.
If the situation demands it, know that there is a high risk of getting bit or injured, so proceed carefully. Instruct others to leash up their dogs and move them away from the fight. Avoid grabbing a dog's tail, limbs, or paws. If safe to do so, quickly grab the back legs above the thighs, near the hips, and raise the dog's rear-end up like a wheelbarrow, as high as you can, and back the dogs away from each other. Once you start this process, do NOT let go! You must commit!
If you are not successful in grabbing and controlling the dogs using the wheelbarrow method, or if one of the dogs has "locked" on to the other dog, you will need to keep them from thrashing about, preventing any ripping or tearing of flesh. Quickly and carefully grab each dog by the collar (back of the neck, between the dog's ears) and quickly twist and pull UP (not back!). Straddling the dog can help to immobilize him. If you have a CO2 pet corrector, giving a quick blast of air near the dog's face, nose, or ears may get the dog to release. If you have a break-stick, insert it into the mouth (behind the molars) and twist to facilitate the release of its grip on the other dog. If your are without any tools, you can also try using your free hand to press firmly in the middle of the dog's neck, just above the sternal notch (bone) to create a gag reflex. If a dog will not release, then continue to twist the dog's collar cutting of it's air. A slip-lead can work for this as well. This may take several minutes. Once the dog releases, immediately separate the dogs and then look them over for injuries when it is safe to do so.
As already mentioned, breaking up a dog fight is dangerous and the best remedy is prevention and training. If your dog is getting into dog fights, contact a professional dog trainer for help.