Poems To Help with the Loss of Your Dog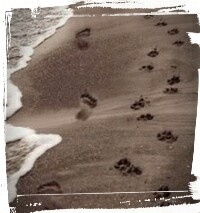 I went outside this morning, and nothing was the same.
You didn't greet me this time when I called your name.
I left a bowl of food for you, that I know you'll never eat.
The yard outside sits alone, and will no longer feel your feet.
Your ball is laying on the porch, the holes you dug are still there.
Your doggy brush is by the door, your toys are everywhere.
Your leash is waiting by the gate for the walk we just can't take.
All the memories of you I see, as my heart begins to break.
As I stood there and thought of you, a tear dropped from my eye.
I never thought the day would come, the day that you would die.
As the tears rolled down my face, I dropped to my knees in sorrow.
I can barely face today, how will I feel tomorrow?
As I buried my face in my hands, I bawled like never before.
When I was done, I took a breath, and walked back in the door.
I got dressed and went to work, I dreaded coming home.
Who would be there to greet me? Now I face the world alone.
Now I lay here in my bed, all the world is dark.
It is way too quiet outside, I long for just one more bark.
Please come tackle me one more time, and track mud on the floor.
Drool all over my toes again, chew up a sock once more.
Come and lick my tears away, let me touch your fur.
I want to see your soft brown eyes, I want things the way they were.
As I cry myself to sleep, I remember as I close my lids.
Tomorrow is a closer day, that we meet at Rainbow Bridge...

When a beloved pet dies, they journey to Rainbow Bridge. Here is a land of meadows, hills, and warm spring weather for all of our special friends to run and play together. Here they are all restored to health and vigor, made whole and strong again, just as we remember them in our dreams of days and times gone by. They play all day with each other, happy and content, except for one small thing...
They each miss someone very special to them.

So each day they all run and play together, but the day comes when one suddenly stops playing and looks into the distance... the nose twitches, ears are up, eyes intent, the eager body quivers... and suddenly breaks away from the group, flying over the green grass, running faster and faster...

YOU have been spotted, and when you and your special friend meet, you cling together in joyous reunion. The happy kisses rain upon your face, your hands again caress your dog's beloved head, and you look once more into the trusting eyes of your pet, so long gone from your life but never absent from your heart.

Then you cross the Rainbow Bridge together, never to be parted again.