How To House Train Your Puppy

Is your pup piddling everywhere in your home?
Are you finding unwanted "doggy deposits"?
Want your pup to stop chewing on everything?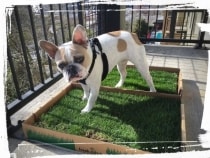 Remember "Confine & Observe". From your dog's point of view there is no wrong place to go potty, he'll feel like going and just do it. Using a doggy door or opening your back door every couple of hours to let your dog out will not house train your dog. Instead, you want to prevent mistakes and establish good habits. Know that dogs have a natural instinct to not eliminate where they sleep. The house training method described below utilizes this knowledge to our advantage.

First, develop a food and water schedule. Routinely feed your dog each day at the same time, but never close to bed time. Before going to bed, and before your dog's last potty break, take away your dog's bowls (don't forget to put them back first thing in the morning!). Feeding your dog on a schedule makes elimination more predictable.

Crate train your dog. Use a properly sized crate that is large enough for your dog to stand up and turn around, but no bigger. If the crate is too big, he'll think he's got a bedroom with a bathroom built in. He'll potty in one corner and sleep in the other.

During the house training period, your dog should be in his crate unless you can observe him with your full attention. Otherwise put your dog on a 4 foot leash, put a carabiner on the handle end and clip it to your belt or clothing so your dog is tethered to you. At the first sign your dog needs to go, quickly escort him outside. Those signs include circling, sniffing, anxiousness, whining among other symptoms. Take your dog to the spot where you prefer him to go and give him at least 10 minutes to do his business. Say nothing, be quiet, or you can put too much pressure on your dog. If he doesn't do anything, place him back in the crate for 20 minutes, then bring him back to the spot. Repeat until he eliminates, then praise quietly. Don't get over excited when your dog goes in the right place or he may stop going. You don't want a cheering squad when you go either, do you? Be sure to spend some time with your dog before bringing him back inside, at least 5-10 min. If you immediately bring your dog in after he relieves himself, he may learn to hold it so he can spend more time outside.

This method makes it near impossible for your dog to have an accident or be destructive. You're either right there to take him out, or he is in the crate where he won't want to relieve himself. Using a 6-10 foot leash or long-line, spend time playing with your dog and let him wander outside the crate. Observe your dog 100%. This allows you to interrupt and stop unwanted behaviors such as running out of site, chewing, getting into the garbage, counter surfing, or rushing the front door and barking by simply stepping on the line or giving a few light tugs. By being diligent now, you will be able to give your dog years of freedom without worries.

No matter how attentive and diligent you are during this process there is bound to be accidents. Don't worry about it, don't scold or punish your dog, just ensure that you clean up mistakes thoroughly. Be sure to use non-ammonia based cleaners or your dog will continue to go in those same spots. If your dog has an accident, go back a step in training, reducing freedom for a few days. Be reasonable with how long your dog can go without eliminating. You may need a dog walker, friend, or neighbor to assist you with taking your dog out.

Be patient. It won't be long before you'll have a dog that you can trust in your home!