Fun Stuff To Teach Your Dog

Cameras & Dogs
Start by sitting on the floor with your camera in your lap and allow your dog to approach at her own pace. Never force your dog. Praise her as she starts to move toward you. Provide treats when she gets close enough to you and allow her to sniff your camera while it remains in your lap. After she sniffs the camera, be sure to provide more treats. Only give her treats when she looks at or sniffs the camera. Slowly raise the camera and if your dog stays near or moves closer to investigate, praise and treat her. Continue to raise your camera in very slow increments while rewarding her at each stage, until the camera is high enough to look through the viewfinder. Press your shutter release, give her a treat. Do not spend time trying to focus for a real photo, for now we are just teaching your dog that looking at the camera, and the sound of the shutter release, means a reward is coming. Keep sessions to 2-3 min. Each session, increase the amount of time you look through the camera view finder before pressing shutter release and rewarding your dog.

Start taking pictures of your dog where you don't need the camera flash. A lot of dogs dislike the camera because of the flash. Ease into using the flash once your dog is comfortable taking pictures without it.

High Five

Start by saying "shake", then gently lift your dog's paw with your hand, say "yes" and give her a treat. Repeat this, doing short sessions until your dog understands this. Eventually your dog will offer her paw on her own. Reward each touch with a treat. Once your dog consistently touches your hand, move your hand slightly to the side so she will have to lean to touch your hand. Now start holding your flat palm in the air vertically. Now start saying "high five!" each time you raise your hand, again rewarding each touch.

Teach Your Dog to Wear Sunglasses or Doggles

Ask your dog to sit. Hold the doggles in your hand, draw your dog's attention to them. If he looks at them, say "good" & reward. Slowly raise them towards his face. If he sits there and does not move away, say "good" & reward. If he moves away, start again with the doggles further away from his face. Gradually bring the doggles closer to your dog's face, praising & rewarding as you progress. Now place the sunglasses on your dog's nose, just for a second, praise & reward. Gradually increase the time that your dog will sit and wear his sunglasses.

Rainy Day Games
Put your dog in a down-stay, then hide a toy. Return to your dog, release your dog with "find it". You may have to walk your dog to the toy the first few times. Once he grabs the toy, praise him and have him return the toy to you in the spot where you started. Once your dog goes for the toy without your assistance, you can ensure he brings it back by using a long-lead. This game can also be use to fetch your slippers!

Place your dog in a down-stay, in the kitchen. Next, walk into your living room and place three empty coffee cans side-by-side, with the mouth on the ground (upside down). Leave about one foot of space between each bucket. Put a doggie-cookie under one of them. Return to your dog, release your dog with "find it", and walk him over to the cans. Encourage your dog to smell the cans. When he gets excited about the can with the cookie under it, praise him lavishly. Then, kick the can over and let him get the cookie. Repeat this process by switching the can the cookie is hidden under. Once your dog starts to get the hang of the game, you can add more complexity by spacing the cans further apart, even adding more cans. Once your dog understands this game, you can also teach your dog to "sit" next to the bucket with the cookie.

Its Yer Choice (Leave It & Drop It)
You will want to teach this slowly, in stages. Repeating this every few days until your dog understands. If at anytime your dog fails, start over in your training and move to the next stage more slowly. You may also want to keep your dog on a leash as he may become frustrated, give up, and try to walk away.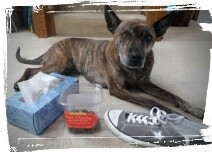 Hold some kibble or treats in your fist near your dog's face and let him gnaw and lick until he gives up. Once he gives up, offer him a treat from your other hand and say "take it". Repeat until he no longer tries to take the food from your fist. Then open your fist, allowing him to see the food. If he tries to take it, say "leave it" as you close your fist. If he waits and looks away, then reward him from your other hand and say "take it".

Next, challenge your dog even further by placing a treat on the ground near his paws and covering it with your hand. Slowly expose the treat, asking him to ignore it by saying "leave it" (do not repeat the command, say it only once each time you expose the food) and waiting for him to look away before rewarding "take it". Be prepared to cover up the food quickly. You can then start placing a few treats on your dog's paws and repeat the exercise, only letting him have what you give him.

The next step is to walk your dog past some food on the floor. If he goes for the food, say "leave it", give a gentle tug on the leash and redirect his focus back on you. Reward him for ignoring the food on the floor. Your next challenge will be to place food on the ground and call your dog across the food to you.

Once your dog has learned this behavior, you can switch to toys and teach "drop it". Once your dog has his mouth on the object, put a treat very close to his nose and say "drop it". Praise him when he opens his mouth. Feed him the treat as you pick up the item with your other hand. Return the item to him. Practice "drop it" with objects that interest him but he is not allowed to chew such as tissues, wrappers, shoes, etc. Then practice this outside with items like pinecones, rocks, sticks, leaves, poop, etc.

Play Dead
Begin with your dog lying down and you crouching in front of him. Place a treat near his nose and gently lure his nose towards his hips. As his head follows your hand, say "good" & reward. If your dog raises himself off the ground simply ask him to lie down and start again. This time use a smaller had movement. Continue saying "good" & rewarding as your dog stretches his head and shoulders towards his hips. Once his head reaches his hips, move your food lure over his back and towards the floor. Once he reaches this point he will shift his weight to one side. Continue luring until he is lying flat on his side. Introduce the cue "Bang". The key to having a dead dog is no wagging tail! Wait to see if your dog stops wagging his tail before you reward.

Up Against the Wall, You're Busted!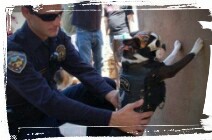 Stand next to a wall, with a treat in your hand reach up high enough on the wall that your dog can't quite reach it. Pat the wall with your hand a few times and say "up against the wall you're busted"! (Use a little excitement in your voice, later you can sound commanding.) Sometimes they will jump up to try and get it, do not reward this. When your dog stretches out and puts his paws on the wall, say "yes" and reward. Do this a few times to get the behaviour happening. Next, swivel around behind your dog kind of like straddling him and just sort of help support him there for a few seconds, say "good" & reward. Wait a little longer each time before rewarding. Then get your dog to hold that position while you pat him down from his shoulders to the base of his back legs, "Just checking your not concealing anything"! Then say "good" and reward.

Hit The Lights
Start by teaching your dog the "touch" command. Use an object such a can topper or pen lid and hold it in front of your dog. Every time your dog touches the object with his nose tell him "touch" and give him a treat.

Once your dog continually touches the object in your hand, put it on the floor about a foot away and say "go touch". Give your dog a treat each time your dog runs over and touches the object. NO TREATS if your dog picks it up! Once your dog is continually doing that at any distance, tape the object to the wall and repeat until your dog understands. Keep raising the spot on the wall each time you repeat until you are at the level of a light switch.

Then, put the item over the light switch. This is where it pays to use smaller items. Your dog should touch the item hard enough to flick the switch up. Repeat & treat many times. Once your dog is touching the item you can un-tape it and just hold it above the switch. Tell your dog to touch and move the object away at the last second so he hits the switch instead. Treat and repeat. Now, instead of saying "touch", start using the command "hit the lights" and keep repeating, moving the object away at the last second. Eventually you can remove the object completely and just give the command to turn the lights on or off. You should lead your dog through the task several times before trying to have your dog do it on it's own.