We can help your dog behave!

Paws To Train Your Dog offers dog training to anyone living in Phoenix Az and the surrounding Phoenix Metro area. Does your dog freak out when you leave, when visitors come over, or when you see another dog? We can help your dog learn to enjoy being in a crate, show your dog how to behave around visitors and other dogs, listen to you under distractions, come when called, and politely walk past other dogs. Our
dog training programs
work!
Contact us
and get a dog you can be proud of!

Boomer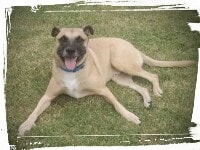 When we first got Boomer, he would lose it at the Vet's office, flopping around like a fish, alligator roles, cowering in the corner, growling, barking, biting...and that was with sedation. Boomer then started snapping at everyone in our home. We could no longer trust him. You can't help dogs unless you understand them. When Boomer would shake, I thought it was excitement. Troy read Boomer right away, he wasn't shaking with excitement, he was trembling with fear.
... [read more]
You have to know your dog, and Troy does.

All of the training has paid off. We didn't realize how much Boomer had improved until he got a sore paw and we had to take him to the vet. Troy met us at the Vet's office and walked us through how to work with Boomer with the Vet. Wow! He was NOTHING like before, he was calm and behaved like a good boy! Boomer allowed the Vet to come close and actually exam him. Troy has taught us so much on how to help Boomer. Thank you Troy! - Cookie & Tod Hegstrom

[hide again]