We can help you enjoy your dog again!

Paws To Train Your Dog offers dog training to anyone living in Gilbert Az. Tired of struggling with your dog? We can help your dog learn how to get along with other dogs, come when called, and politely walk past other dogs without pulling, lunging, or barking. Need help with destructive behaviors such as digging, getting into the garbage, or chewing on your stuff?
Contact us
and we'll show you how to train your dog to be a good dog you can be proud of!

Chet

Chet used to destroy his crate and our house, constantly whine, and pull on his leash, lunging and barking at other dogs. If you left the front door open, the chase was on. After weeks of struggling to work with Chet, we found Troy. After one lesson, Chet was a different dog! Today you wouldn't even recognize him as the same dog. He's awesome off leash now, comes back to me every time, and he even has a few bff's in our neighborhood and has play dates as much as possible. Troy's training works!! It totally works!!! I cannot ever thank him enough. Thank you Troy!!! xoxo - Jill Boyce

Bear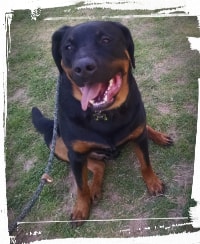 Once day Bear saw someone on a bike, chased that person and tried to bite another. I was convinced I had a dangerously aggressive dog on my hands and felt hopeless that I may need to get rid of my dog. The first time Troy met Bear, he assured me he wasn't aggressive but highly anxious and insecure. This changed the way I looked at him and treated him. Troy truly is a dog whisperer and has also helped with my other dog as well. Troy goes above and beyond what is expected from an ordinary trainer and is well worth the cost. The piece of mind is so worth every penny. Don't give up on your pet because they're "bad", train them, and they can be your greatest companion. - Jen Shafer