Wait On The Dog (aka, The Long Down)
Teach your dog how to behave at coffee shops!

Wait On The Dog, also known as the long down, is different from a down-stay. The down-stay is when you give your dog a command to lay down and then stay put while you walk away. The dog is to remain laying down and alert, waiting to be released. The long down differs by requiring that you let your dog figure out on his own to ignore any distractions, lay down and get comfortable next to you. This is an exercise in "letting go" and "getting over" things around you, teaching your dog how to calm himself down as well as realize that you are a source of comfort and leadership. You are the one who decides where the two of you will be and for how long. Your dog will learn that there are times you will not be able to entertain him and he will be expected to calm down and be well-behaved.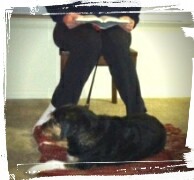 Wait On The Dog is deceptively easy and should be practiced for a minimum of 15 minutes, several times a day, every day. It is best to practice under low distractions when your dog has been exercised and is tired, and when you are not tired. You will want to occupy your time by reading a book or surfing the internet, but no TV. Have everyone in the family take a turn. Make sure your dog is wearing a collar that he can't slip out of, then place your dog on-leash. Next, either tether your dog to you or sit on the leash. Allow your dog only enough leash so that if your dog decides to, he can lay down quietly at your feet. For large dogs or dogs with severe behavior issues, you may want step or stand on the leash, close enough to your dog so that his movement is limited.

Do not ask your dog to sit or down. Do not touch or talk to your dog. If your dog does anything for your attention, ignore him. However, if your dog climbs up on you, chews the leash, mouths your hand, or any other behavior that is equally unacceptable, do not scold your dog, just calmly grab the leash next to the collar and put steady, gentle downward pressure on the leash. Do not force your dog into a sit or down and do not talk to or touch your dog. Continue to provide this pressure until your dog settles again.

The 15 minutes begins AFTER your dog settles down. This means the first few times you do the exercise it may last as long as an hour, some dogs even longer than that. During the first couple of days a really determined dog will throw everything at you, going through all kinds of behaviors. When none of the behaviors win them their freedom they will literally throw themselves down, give a loud humph and refuse to look at you. Be patient, your dog will soon learn to quietly settle at your feet. Remember to not try to help your dog. Give your dog the chance to figure out what the most comfortable position is going to be. This needs to be a mental exercise for your dog.

After 15 minutes, release your dog even if your dog has fallen asleep by getting up and saying "lets go". Once your dog has mastered this phase of laying at your feet for 15 min, you can begin to say "get easy" as you both settle in your spot. If your dog becomes alert or gets up, say "get easy" and apply gentle leash pressure to guide your dog back to comfort.

Once your dog can "get easy", have your dog lay down in a spot 10' away. You can move around the room, but remain in the room. Once your dog has mastered this, start sitting or standing with your back to your dog. Your next phase will be to work on the long down by leaving the room for a few minutes at a time, slowly increasing the amount of time until your dog can remain in a long down for 30 minutes.

The "Wait On The Dog" exercise often feels like you are "not doing anything" with your dog, and people are sometimes tempted to not do it. To skip this exercise is to deny your dog the gift of self-confidence, self-control, balance, and calm "doggy zen."