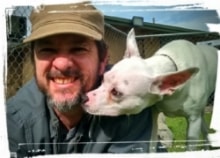 Troy Bogden
(Owner/Head Trainer)

Despite growing up with dogs and helping train many for family & friends, one day I ended up with my own dogs exhibiting severe behavior issues. After working with a few local dog trainers and getting no results, it didn't take long to begin feeling frustrated and hopeless. While searching for help, I volunteered at some shelters and watched so many people reluctantly giving up their dogs that I decided to pursue a life as a professional dog trainer.

I began shadowing other trainers, studying extensively on behavior modification and dog ethology. Even today, I continuously strive to improve my training methods and further my education by continuing to attend schools, seminars, and workshops with other respected dog trainers and behaviorists. While helping dog owners, I encourage them to also develop an understanding of how dogs learn and perceive the world, setting up both dogs and owners for success.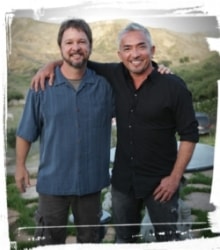 Over the years, I've worked to create training programs that offer the best solutions to even the most challenging dog issues, enabling me to help dogs that other trainers have given up on or are unwilling to work with. If you are ready to transform your dog and your life, I am ready to help!

Here is a partial list of my certificates, course work, and memberships:

Certified ForceFree Method™ Dog Trainer
Certified Pack To Basics™ Dog Socialization Instructor
Cesar Millan's Foundation Training
Ian Dunbar's Growl Class for Reactive Dogs
Sarah Kalnajs' Language Of Dogs
Grisha Stewart's Behavior Adjustment Training
Marc Goldberg's ForceFree E-Collar Method
Martin Deeley's E-Touch E-Collar Method
Chad Mackin's Dogmanship
Tyler Muto's Dogmanship
Nelson Hodges' Relationship Based Behavior Modification
Heather Beck's Dealing with Difficult Dogs
Jen Freilich's Dog Trainer Shadow Program
Duke Ferguson's Art of Attention
Michael Ellis' Obedience Intensive Course
Jay Jack's Dog Rehab Thru Relationships
Lori Culpepper's Nosework/Scentwork
Leslie Horton's Service Dog Training
Teri Ann Tate's Pet CPR & First Aid Clinic
International Association of Canine Professionals (IACP) Professional Member #4012